One nice thing about Medigap plans is that they're standardized, which means that a plan F from one insurance company, for instance, covers the same basic benefits as a plan F from another company. While standardization makes the policies easy to compare, that doesn't mean that price is the only important factor to consider. Because it may be difficult to switch to a different Medicare supplement policy if you develop a medical condition, rate stability is often more important when making a decision than the year one rate.
As Medicare explains, "Each insurance company decides which Medigap policies it wants to sell, although state laws might affect which ones they offer. Insurance companies that sell Medigap policies:
Don't have to offer every Medigap plan
Must offer Medigap Plan A if they offer any Medigap policy
Must also offer Plan C or Plan F if they offer any plan
Below is a chart comparing the benefits of the 10 standardized Medicare supplement plans.
Yes = the plan covers 100% of this benefit
No = the policy doesn't cover that benefit
% = the plan covers that percentage of this benefit
N/A = not applicable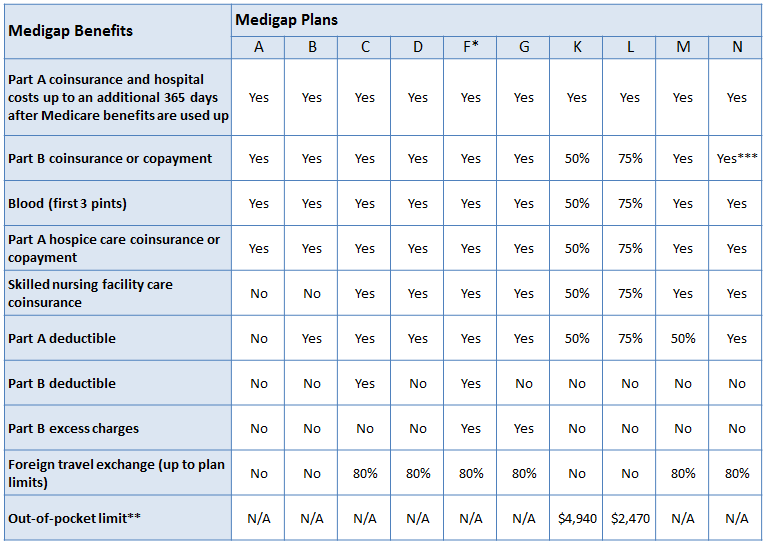 * Plan F also offers a high-deductible plan. If you choose this option, this means you must pay for Medicare-covered costs up to the deductible amount of $2,180 in 2015 before your Medigap plan pays anything.
** After you meet your out-of-pocket yearly limit and your yearly Part B deductible, the Medigap plan pays 100% of covered services for the rest of the calendar year.
*** Plan N pays 100% of the Part B coinsurance, except for a copayment of up to $20 for some office visits and up to a $50 copayment for emergency room visits that don't result in inpatient admission.
You live in Massachusetts, Minnesota, or Wisconsin
If you live in one of these 3 states, Medigap policies are standardized in a different way.
Source: https://www.medicare.gov/supplement-other-insurance/compare-medigap/compare-medigap.html