A lot of people think that their health insurance plan will take care of them when they're traveling outside the country. While that is technically correct, the experience can be a nightmare. Here's what you can expect if you have a medical emergency while traveling:
First, the medical facility will require you to pay the entire bill before you leave. There have been news reports about tourists being forced to pay tens of thousands of dollars at a foreign hospital before they were allowed to go home.
When you get back to the United States, you'll have to file a claim with your insurance company, and it might take weeks or months to be reimbursed while the insurer verifies the charges.
Even after reimbursement, you may be out thousands of dollars if you have a big deductible and out-of-pocket exposure. And if you're on Medicare, it could be even worse; Medicare only covers you for life-threatening emergencies outside the United States, and Medicare supplements have a $50,000 lifetime limit.
There is a better way!
With a travel health insurance policy from GeoBlue, you can have up to a million dollars in coverage with no deductible while you're traveling outside the country, all at a surprisingly low cost. You're covered for minor and major accidents and illnesses, and the policy even includes medical evacuations when necessary.
You're supposed to relax when you're on vacation, not worry about what might happen. With GeoBlue, you can travel with the peace of mind that comes with knowing that you're protected.
More Great Stuff About GeoBlue
With GeoBlue, leisure travelers, business travelers, and expatriates can trust that care is available to them no matter the town, country, or time zone. Through its elite network of providers, innovative mobile and online tools, and high touch approach to customer service, GeoBlue provides peace of mind to members anywhere in the world.
Direct Pay – so you don't have to pay out of pocket

Mobile and Online Services – access everything you need right from your phone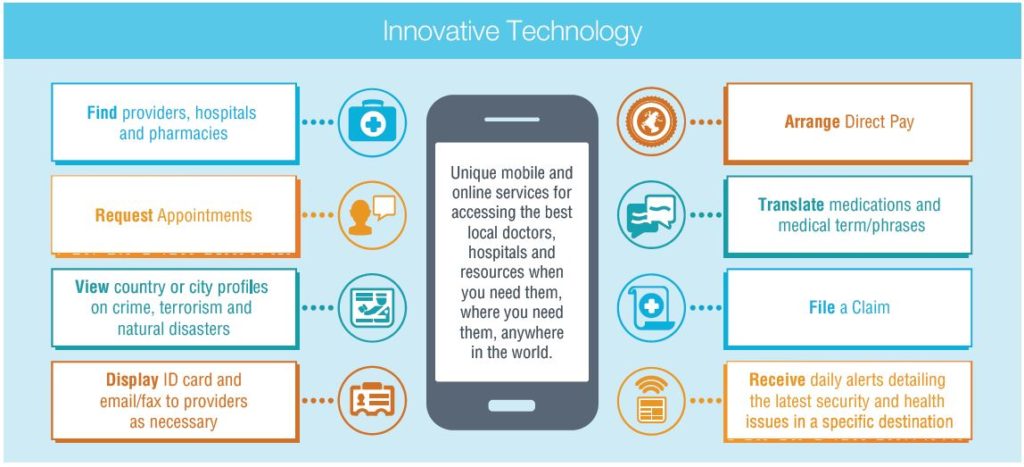 Medical Assistance Team – multilingual customer service available 24/7/365