Medicare Parts A and B, also known as Original Medicare, don't provide coverage for most prescription drugs. To get help with the cost of your medications, you'll need to purchase a Medicare Part D prescription drug plan.
Part D drug coverage can be purchased as a stand-alone plan to accompany Medicare + a supplement or can be incorporated into a Medicare Advantage plan. Either way, there are a lot of options. And while there are a number of similarities between many of the drug plans offered, there are also some factors to consider when deciding which plan is best for you, including the plan's drug formulary, the monthly premium, the copayments and/or coinsurance you're required to pay at the pharmacy, and the reputation of the insurance company.
Unlike a Medicare supplement plan, you can change Part D plans annually during the Annual Election Period (AEP) without having to qualify for the coverage.
Part D premiums by income
The chart below shows your estimated 2024 prescription drug plan monthly premium based on your income as reported on your IRS tax return from 2 years ago and last year. If your income is above a certain limit, you'll pay an income-related monthly adjustment amount in addition to your plan premium.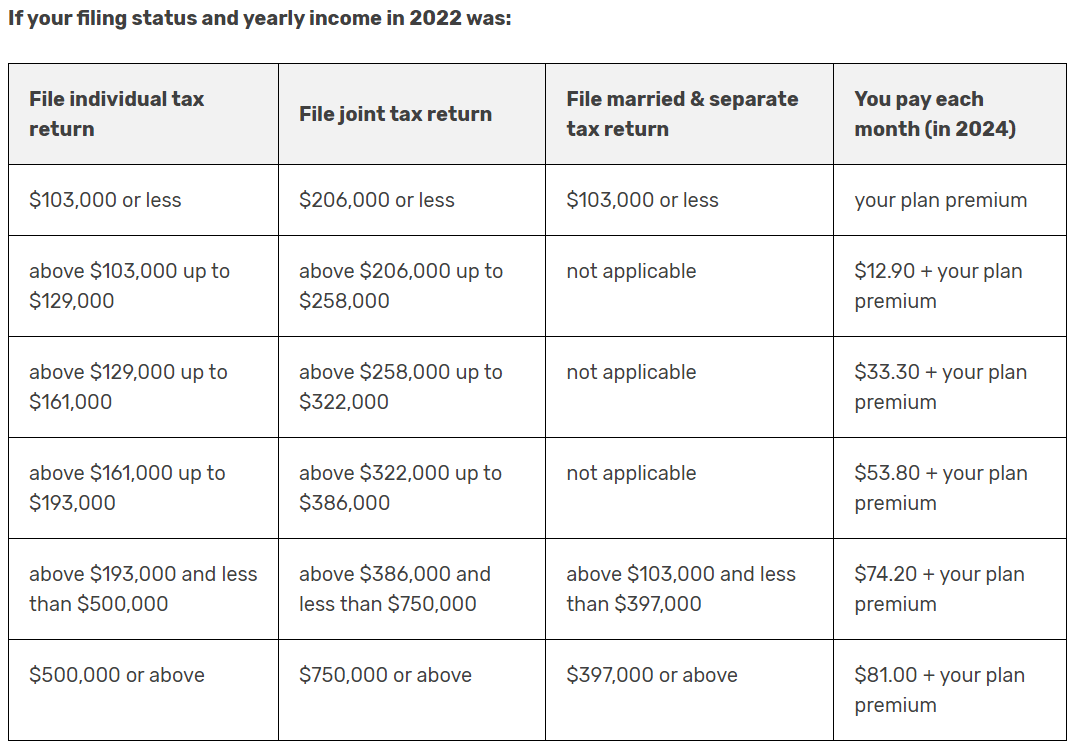 Social Security will contact you if you have to pay Part D-IRMAA, based on your income. The amount you pay can change each year. If you have to pay a higher amount for your Part D premium and you disagree (for example, if your income goes down), you can appeal your IRMAA determination.
The extra amount you have to pay isn't part of your plan premium. You don't pay the extra amount to your plan. Most people have the extra amount taken from their Social Security check. If the amount isn't taken from your check, you'll get a bill from Medicare or the Railroad Retirement Board. You must pay this amount to keep your Part D coverage.
Get your premium automatically deducted
Contact your drug plan (not Social Security) if you want your premium deducted from your monthly Social Security payment. Your first deduction will usually take 3 months to start, and 3 months of premiums will likely be deducted at once.
After that, only one premium will be deducted each month. You may also see a delay in premiums being withheld if you switch plans. If you want to stop premium deductions and get billed directly, contact your drug plan.
Medicare Disclosure
We do not offer every plan available in your area. Any information we provide is limited to those plans we do offer in your area. Please contact Medicare.gov or 1-800-MEDICARE to get information on all of your options.
JME INSURANCE AGENCY IS NOT CONNECTED WITH OR ENDORSED BY THE UNITED STATES GOVERNMENT OR THE FEDERAL MEDICARE PROGRAM.