Most employers, especially larger employers, try to provide health insurance to their employees. It's a great employee benefit that helps attract quality workers and serves as an excellent retention tool. Unfortunately, even though they'd like to, most companies cannot afford to provide health insurance for their employees' family members. Sure, dependents are eligible to enroll in the health coverage, but with no employer contribution, a lot of people can't afford the premiums for their spouse and children.
The fact that these family members are eligible to enroll in the employer-sponsored health plan, though, usually blocks them from receiving a premium tax credit in the individual market. That's one of the downsides of a group health plan: it can actually hurt some of your lower-paid employees who might have qualified for government assistance.
The good news is that the availability of group health coverage does not prevent employees from signing their kids up for CHIP. CHIP stands for the Children's Health Insurance Program, which provides a great, low-cost option for lower-income families.
CHIP qualification levels vary by state, but in Texas the cutoff point is 200% of the Federal Poverty Level. Families with different monthly incomes and different household sizes will pay different amounts and receive different benefits, but the coverage is quite comprehensive and the premiums are very reasonable, as shown in the below chart.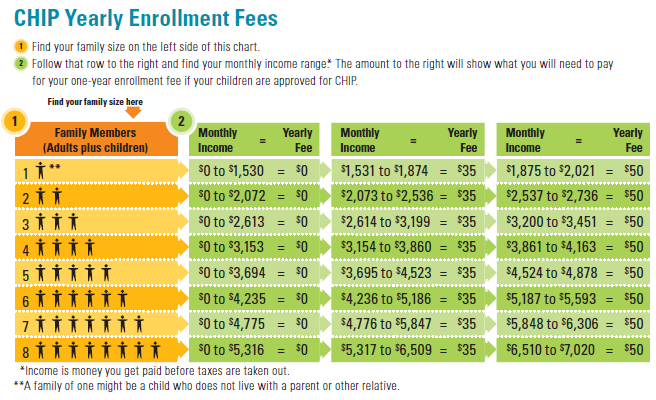 Unfortunately, not everyone is aware of their CHIP options, so it's a good idea to mention it in your annual enrollment meeting. You might also want to use the eligibility chart as a payroll stuffer. Your employees will appreciate the info, and you can feel good about helping them get coverage for their children.
To apply for CHIP for their eligible children, your employees can visit www.YourTexasBenefits.com.