Medicare beneficiaries will soon be receiving new Medicare cards along with a new Medicare number thanks to a 2015 law that requires the Centers for Medicare and Medicaid Services to remove Social Security Numbers (SSNs) from all Medicare cards by April 2019 and replace them with a new Medicare Beneficiary Identifier (MBI). The new cards will be sent out over a 12-month period beginning this April. Everyone should have their new card no later than April, 2019.
Why is Medicare making this change?
One of the main reasons for removing people's Social Security Numbers from their Medicare cards is to protect them against identity theft. According to CMS Administrator Seema Verma:
"We're taking this step to protect our seniors from fraudulent use of Social Security numbers which can lead to identity theft and illegal use of Medicare benefits. Personal identity theft affects a large and growing number of seniors. People age 65 or older are increasingly the victims of this type of crime. Incidents among seniors increased to 2.6 million from 2.1 million between 2012 and 2014, according to the most current statistics from the Department of Justice. Identity theft can take not only an emotional toll on those who experience it, but also a financial one: two-thirds of all identity theft victims reported a direct financial loss. It can also disrupt lives, damage credit ratings and result in inaccuracies in medical records and costly false claims."
Clearly, this was an important change that needed to be made.
What will the new Medicare cards look like?
See for yourself. Here's a sample of the new card: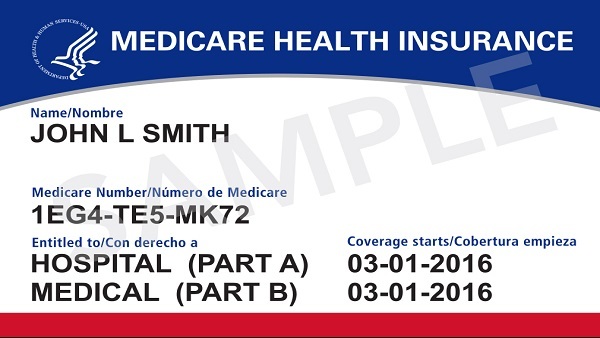 The new Medicare number, or Medicare Beneficiary Identifier, will be 11 characters in length, made up only of numbers and upper-case letters, and will have no hidden or special meaning (it's not tied to your Social Security Number or any other number). Each MBI will unique and randomly generated.
While CMS is no longer using your Social Security Number, the MBI is unique to you and should be protected. Only share it when receiving medical care or signing up for insurance.
Where can I learn more?
Medicare has put together a great flyer that tells you what you need to know about the new Medicare cards. Just click here.