February 2017
New Virtual Visits Program: Prompt Access to Doctors When Members Need It
Consumers crave convenience. In fact, you can see that in the large and growing number of consumers doing business with mobile digital devices. Wireless technology allows them to stay "plugged in" whether they are traveling, exercising, studying, camping or simply reclining in bed.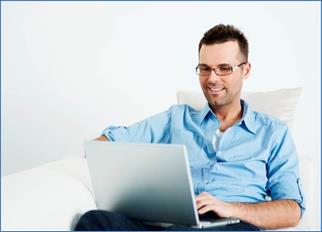 Given the rapid pace at which the health care industry is evolving, competition to provide prompt access is strong. Over the last several years, Blue Cross and Blue Shield of Texas (BCBSTX) has launched a number of digital innovations that seek to put our members in closer touch with everything from finding an in-network doctor, logging in to their online member account and making customer service inquiries to reviewing claims status, diabetes and maternity care management.
In January 2017, we launched virtual visits, powered by MDLIVE, that gives members access to live consultations with board-certified MDLIVE doctors 24 hours a day, seven days a week for non-emergency medical needs. The service is well-suited for common ailments like allergies, cold/flu, sinus infections and more. MDLIVE therapists are also available by appointment for behavioral health consultations.
We believe virtual visits could help reduce high-cost urgent care center and emergency room visits by providing access to MDLIVE doctors, who can offer appropriate remedies that members would have access to before a need becomes serious.
Employees can:
Access MDLIVE by mobile app, online video or by telephone*
Receive prescriptions from MDLIVE doctors electronically directly to the member's pharmacy of choice (when appropriate)
Use Provider Finder® and Blue Access for MembersSM to connect to the virtual visits MDLIVE portal
We can help your company develop a communications strategy to promote virtual visits among your employees, including outlining practices for messaging to employees and providing a sample communications plan. We also can provide a variety of marketing materials you may distribute to employees to promote virtual visits.
View the employer video.
Contact your BCBSTX account executive to learn how to take advantage of virtual visits. It would be an excellent way to help your employees address medical needs that don't need emergency attention.
*Internet/Wi-Fi connection is needed for computer access. Data charges may apply when using a tablet or smartphone. Check phone carrier's plan for details. Non-emergency medical service is limited to interactive-audio (phone only) consultations, along with the ability to prescribe in Texas. Non-emergency medical service in Idaho, Montana, New Mexico and Oklahoma is limited to interactive audio/video (video only), along with the ability to prescribe. Behavioral Health service is limited to interactive audio/video (video only), along with the ability to prescribe in all states. Virtual Visits currently are not available in Arkansas. Service availability depends on location at the time of consultation.
Note: Access to certain transparency products may not be available on all plans. Virtual visits may not be available on all plans.