June 15, 2016
All Markets
Have You Used the Online Producer Service Request Tool Yet?

Blue Cross and Blue Shield of Texas implemented a producer service request tool so that producers can submit requests online for common administration needs. As you will recall from previous communications, it is now mandated for all producers to use this tool.
The following are now required to be submitted through Blue Access for ProducersSM (BAP):
Contact information changes (phone, address, email, fax, etc.)
Questions on missing commissions
Electronic Funds Transfer information updates
Submitting Errors and Omissions Insurance documentation
Changing your password or security challenge question
Remember: Continue to use the Producer Service Center phone number at 855-782-4272 for updates or changes to your name, tax ID, Social Security number or producer ID.
How to Use the Producer Request Tool
Log on to BAP to submit and track requests
Select the Producer Services link located at the top of the page.

Identify your request through the Request Assistance page.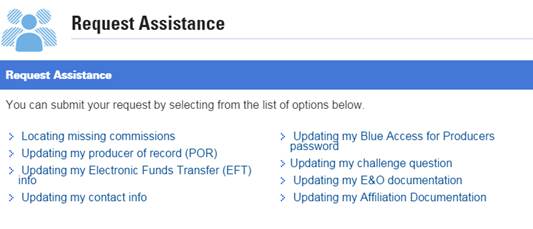 Track submitted requests by clicking the "Existing Request Tickets" link on the left-hand navigation.